The
Pixel Berry Pie Designs
blog is all about promoting great products, online shops, and more. Most readers enjoy the
Shop Hop
(for sellers to share their items), and the the weekly
giveaways
held here (prizes usually offered from Etsy stores).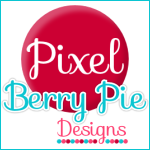 Advertisement information:
Space is available for advertisement in my blog sidebar. Your ad will show up on any page---my home page and on individual blog posts. I prefer the 125x125px size, but if you have a different sized banner, feel free to ask me about it.
For 1 month of advertisement: $7.00
For 3 months of advertisement: $18.00
(Prices may be subject to change later on.)
Extra bonuses for my paid advertising service! For each month, I will...
Show your button in my blog sidebar the entire month.
Spotlight your products in a featured post.
Mention your business from Facebook, Twitter, Google Plus, and Pinterest.
Do you need a button advertisement made for you?
I also would like to offer my services of creating and designing a button ad if you do not already have one, for a one-time additional cost.
Contact me
and we can get started on the design right away!
Giveaways & Product Reviews:
If you have a product that you think my blog readers would enjoy hearing about, feel free to
ask me
. I'm open to doing reviews or giveaways. I would love to help promote your products!
Click here to read more
about offering a prize to give away.
Berry Handmade Promotions:
This is a blogging team I've started to boost handmade products even further across the internet. With several bloggers working together, the audience reach will be much larger, which means more attention is drawn to your products. We offer premium giveaways, reviews and spotlights.
Read details
>>>
Statistics as of July 2016:
Facebook Fans: 3,200
Google Plus Followers: 1,200
GFC Followers: 1,060
Newsletter Subscribers: 800
RSS Feed Subscribers: 790
Pinterest Followers: 760
Twitter Followers: 630
Average Monthly Pageviews: 8,000
(based on 3 month average)
If you're ready...
Contact me
if you are interested in advertising on my blog! I'll be happy to answer any questions you may have, fill you in on more details, and set up payment through PayPal.
pixelberrypie@yahoo.com