I have a freebie for
every single one of you
!
For all the strong women out there, I'm offering a brand new printable sheet in my shop (yep,
it's for sale
) BUT! I'm offering it to you for FREE! There's 14 new designs on this sheet, all related to Bible scriptures for inspiration. Ready to print or to use for online graphics. Links to the free downloads are below. As some of you may already know, October is breast cancer awareness month, and with that in mind, I made sure to incorporate pink into each graphic.
If you have any comments for me about the digital collage sheet, I'd love to hear how you're going to use them! To see all the designs before downloading, look at the
samples in my shop
.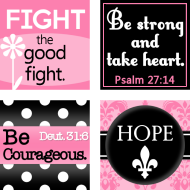 Download
printable PDF file.
(recommended)
Download
printable JPEG file.
Download
individual PNG files.
(for digital use / blog icons)