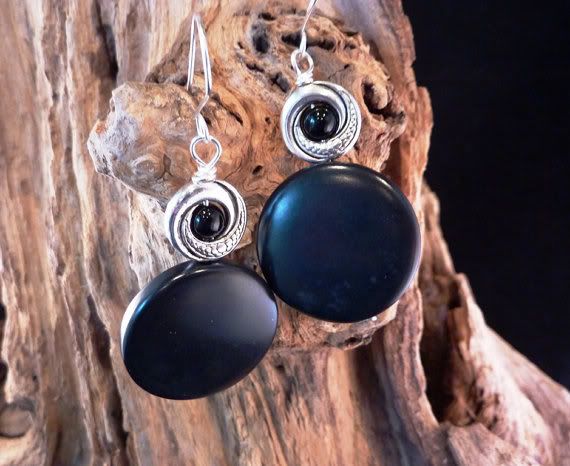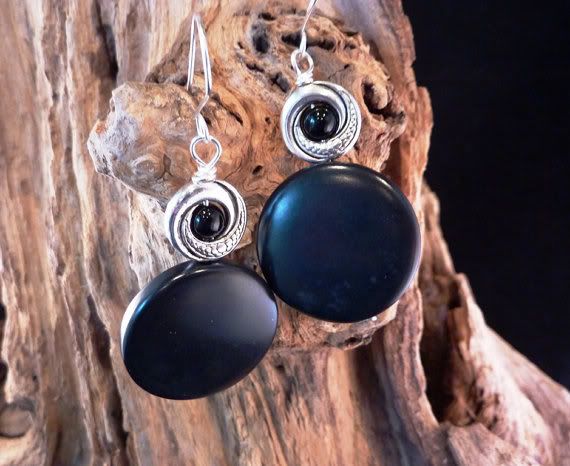 The prize this week:
Beautiful Black Tagua Earrings.
Eco Friendly Handmade Black Tagua Earrings with Onxy Bead, created with super light-weight, sliced, natural tagua nuts, (vegetable ivory) plus, lead-free, made-in-American metal findings. My designs are trendy and reflect the love of earth designs, and are enhanced with shiny metals tastefully complimenting the richness of the earth. They are fun to wear and attract attention wherever you wear them!
Tagua nuts are a product of the rain forests of Central and South America. They are a viable alternative to real ivory. And I am sure that the elephants and other mammals that ivory comes from will be very happy that you are wearing the Taguas instead of their body parts. :0) Because Mother Earth designs the nuts, no two slices are identical. Therefore, a variance in the slices is quite normal and expected. The small black bead in the center of the silver ring is onyx.
They are approximately 2.6 inches long (77 mm), and they weigh approximately .26 oz.each.
These tagua earrings are available in the
Carole's shop
for $40.00.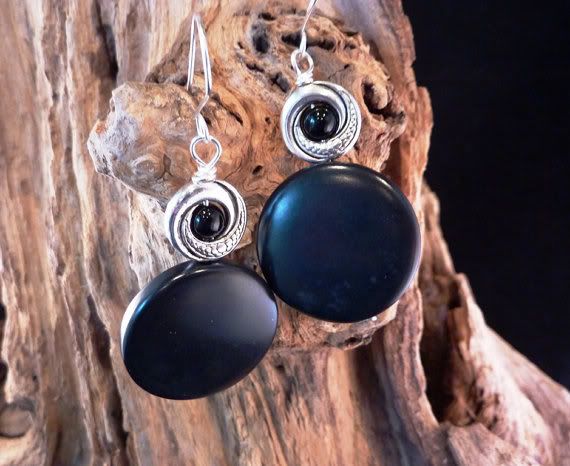 Meet the shop owner:

Jewelry Designed & Created by Carole specializes in jewelry made with unusual semi-precious gemstones, most of which I cut, polish, drill and finish myself, and chains, most of which, I design and make as well. The focus on all my pieces is art, designed by the earth in the way of beautiful stone, and metals from the earth as well. The earth and I are definitely co-creators in my work. Almost all of my pieces are one-of-a-kind and very unusual. When someone wears them, there will always be comments and compliments to the wearer because of their unusual nature.

— Carole, shop owner
Visit
Jewelry Designed & Created by Carole
here:
Etsy Shop
Would you like to win this beautiful pair of earrings?
Please fill out the Rafflecopter form below to submit your entries.
Contest ends on May 20th. Open to U.S. & Canada entrants only.
a Rafflecopter giveaway
Browse
Jewelry Designed & Created by Carole
to see what else is for sell: