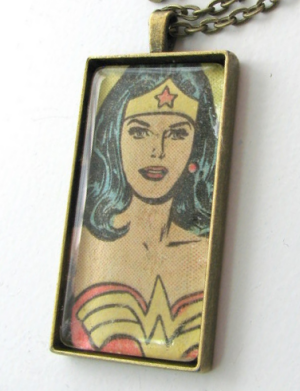 {You can win!}
Vintage Comic
Wonder Woman Pendant
Cate's Emporium
www.catesemporium.etsy.com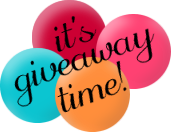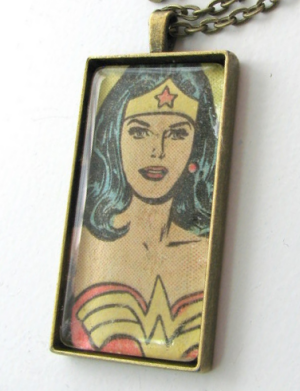 The prize this week:

1 winner will receive a Wonder Woman necklace!

The Wonder Woman illustration in these pendant is from an actual vintage comic book! Safely nestled under a 1 x 2 inch domino size, glass dome in an antiqued brass bezel.

This pendant would make a unique wedding gift. Pair her up with a Superman comic book pendant or keychain as a gift for the happy couple!

Pendant falls from a 24 inch, antiqued brass link chain. $25.00 value.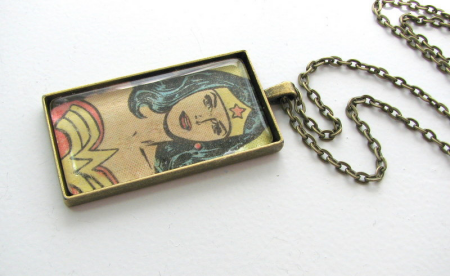 About the Shop Owner

"I find myself being drawn to Victorian and vintage inspired designs. I really like the floral and filigree type elements. Steampunk is also fascinating. So the materials I enjoy working with encompass these as well as sparkling things and pearls. I also enjoy other art mediums, such as painting, scrapbooking, and also photography."

— Catherine, from Cate's Emporium
Visit
Cate's Emporium
here:
Etsy / Facebook / Twitter
Would you like to win this lovely pendant?
Please fill out the Rafflecopter form below to submit your entries.
Contest ends on September 20. Open to U.S. entrants only.
a Rafflecopter giveaway
Browse
Cate's Emporium
to see what else is for sale: