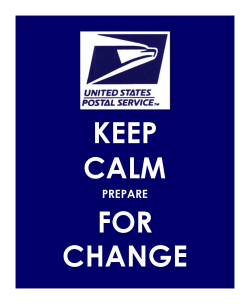 It was just 1 year ago when the USPS shot up the price of a First Class stamp to $0.46. Now, we're already in for another big jump. For the
2014 rate changes
, the First Class stamp is skyrocketing to an all-new high,
$0.49
.
This (and other) rate changes took effect on January 26, 2014.
How Will The Price Adjustments Influence Your Business?
To get the correct perspective on the new rates, you should take a look at this informative
comparison chart of shipping prices
, found on Etsy.com.
A Few Key Points:
• Business owners who frequently ship 1oz to 3oz First Class packages will feel the biggest impact, with a $0.24 increase per package.

• The regular Priority Mail shipping rates mostly stay the same, except for the Small Rate Flat Box which goes up a few cents to $5.25.

• A few other subtle change take place, such as Flat Rate Priority International actually dropping $0.45 off its price. Shocker!

• Key highlight: Delivery Confirmation labels for International Shipping are expanding to more countries! This means you can print the labels for international packages from home, customs form included, along with package tracking. What are the 12 new countries? Estonia, Finland, Gibraltar, Hungary, Italy, Latvia, Lithuania, Luxembourg, Malaysia, Malta, Portugal and Singapore.
Pro Tips:
Always keep in mind that buying your postage online is much cheaper than purchasing it at the post office!
Read more about the
2014 shipping rates
at USPS.com, and check out this infographic on pricing:
USPS vs. FedEx vs. UPS
.