{THE PRIZE}
$30 Gift Certificate


to . . .


Charitable Creations Jewelry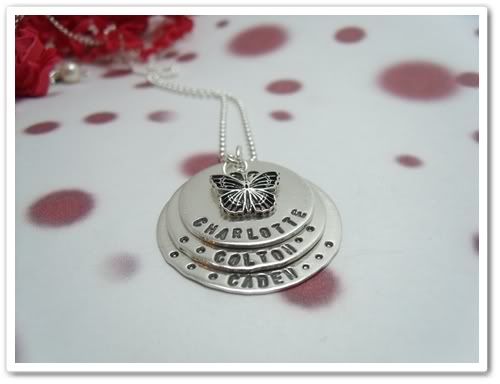 Win a $30 gift certificate to the Charitable Creations Jewelry!
You'll be able to purchase any of these lovely items, or choose from the entire selection of their online store.



"
Charitable Creations Jewelry offers you a wide variety of hand stamped mommy necklaces, sterling silver necklaces, poesy rings, bracelets, earrings, guitar picks, key chains, pet tags and so much more. We create simple, unique and meaningful keepsakes and gifts. All my jewelry may be personalized with any name/s, date/s, inspirational quotes or personal sayings you choose. We have many fonts, designs and charms to choose from to make your piece meaningful to you. And best of all, a portion of our monthly sales are donated to our
Charity of the Month
!!
"
— Shelly, shop owner
Charitable Creations Jewelry has something special that you could give to everyone... Newlyweds, Grandmothers, Pets, Survivors...




Please fill out the Rafflecopter form below to submit your entries!
Contest ends on November 21.




(can't see the form to fill out above? just leave a comment below with your name & email and you'll be entered)






Browse Charitable Creations Jewelry to see what else is for sell: