Welcome, everyone!
With the arrival of April, good things are happening around here.
Pixel Berry Pie Designs has teamed up with Rachael of
Letters from a Mermaid
to offer a HUGE giveaway prize for 1 of our readers!
The good news is that this giveaway is going to be going on for the entire month of April, which means you have a whole month to enter (because some of the entries you can do every day!), share, and follow for lots of fun posts!
Please note that there is one mandatory option in order to enter our giveaway:
You must follow your 2 hosts, Letters from a Mermaid and Pixel Berry Pie Designs on Bloglovin.
And if you don't have a Bloglovin account?
Click here
to read my own tutorial of how to create a Bloglovin account AND bright your current Google Reader subscriptions with you.
....and now for the prizes!
1. $25 in gift credit to Pixel Berry Pie Designs for web & graphic design services. Choose from custom-designed Facebook timeline covers, Etsy banner packages, blog design, business card design, and more!

2. 5 months of free ad space on Letters from a Mermaid blog

3. 5 months of free ad space on Pixel Berry Pie Designs blog

4. Huge jewelry package, including necklace charms, one-of-a-kind green coiled glass bracelet, multi-tiered green and blue beaded bracelet, green swirl earrings and yellow tear drop earrings - Pictured below. (Thanks goes to Rachael for the jewelry!)



Don't forget to enter, share, and follow on Bloglovin, and stay tuned for lots of fun to come! Please fill out the Rafflecopter form below to submit your entries. Contest ends on April 31st. Open to Worldwide entrants.
a Rafflecopter giveaway
Share the image below for more chances to win the big prize package!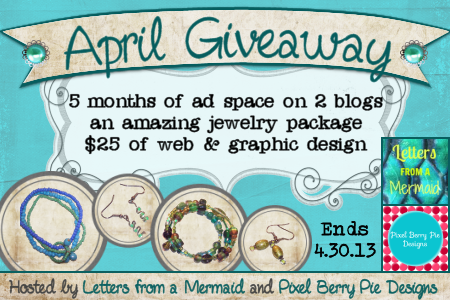 Copy & paste the following code to share on your blog: